Science Enrichments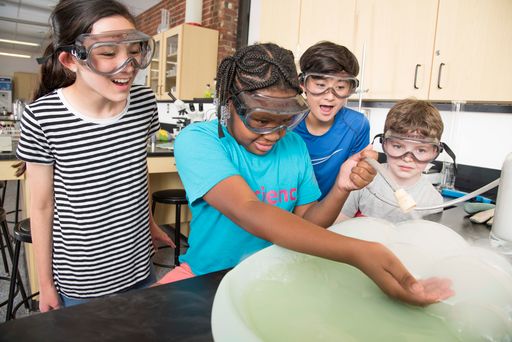 Science Enrichments
Kentucky Science Center educators travel to your classroom and bring science to life! Your students will ask questions, define problems, investigate, analyze data, and defend conclusions. These hands-on sessions are 60 minutes long and are available during school hours as a class or lab experience, or after-school as a science "club" or additional science content. Each Science Enrichment has KAS, Math, and Literacy standards integrated into a variety of STEAM topics.
Request Booking
Grades 1-12 • 25 students per class
Standard Theme

60 min • $250

Signature Theme

60 min • $300

Premium Theme

60 min • $350

Plus mileage fee of $0.70 per mile. An additional fee applies for sites requiring overnight travel. Click "Book Now" and scroll down to "Policies" section for more information.
STEAM
Whether it is the animals of the Amazon, or the towering structures of New York City, Science, Technology, Engineering, Art and Math are all around us. Students will dive into a vast array of activities, topics, and experiments!
Physics
What happens when objects collide? Where do moving objects get energy? Explore the laws of motion and energy using common materials.
Space
How do we fit into the vastness of space? Take a journey through the galaxy and observe how Earth interacts with other planets, moons, and stars.
The Marvelous World of Making
Explore, design, build, mess up, learn, and reconstruct! Students will discover the marvelous world of Maker and how it connects to STEAM and our everyday lives.
Technology & Coding
Advance your school or organization's coding and technology programming! Build robots, code stories, solve problems and increase the skills needed for 21st century careers!
Name that Part Lab
You choose which organ you would like to study — sheep brain, cow eye, pig lung, sheep kidney, or sheep heart — and discover the link between anatomy and physiology. Book multiple labs to cover the body from head to toe.
Whose DNA Lab
Step into a forensics lab to analyze DNA from a hypothetical crime scene. Learn how forensic analysts solve mysteries by using micro-pipetting skills to run DNA samples using gel electrophoresis.
Design Your World
Explore technologies and processes used by real-world STEAM professionals. Use a hands-on approach to put a new spin on current technologies by fabricating solutions to everyday problems.