Brought to you by
Identity Objects
Learn more about the items in our Identity Objects case and the people who donated them below.
Which person do you think is most like you?
If you had to pick five objects that tell your life story, what would you choose?
Cody, Age 30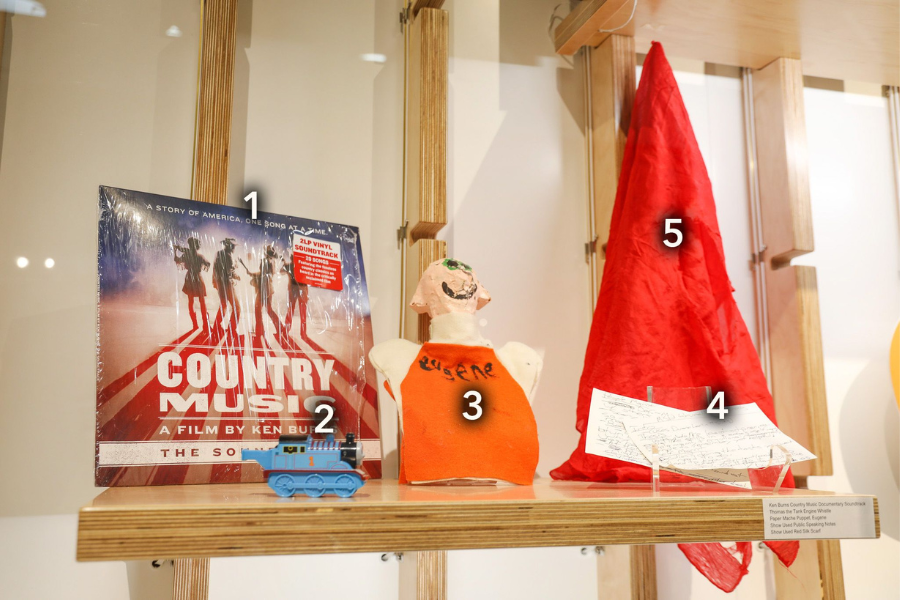 Album cover for Ken Burns country music documentary soundtrack: Represents my connection to country music, especially from the eras covered in the documentary. I connected to it in high school because its focus on sincerity, authenticity, and on relationships correlated with the person I wanted to be. And as an autistic person navigating dating and friendships, the songs about lost love or things going wrong made me feel better when I messed things up.
Thomas the Tank Engine whistle: Represents my literally lifelong connection to trains, in particular Thomas the Tank Engine. Thomas was the first toy I got after my autism diagnosis and in combination with Thomas's TV shows, I learned to speak and eventually used the episodes as social skills scripts. Thomas has had a similar effect to a lot of the autism community, to the point he's adopted as an autism icon.
Papier Mache puppet named Eugene: Before magic, I was interested in puppetry and thanks to a book from the Iroquois branch of the Louisville Free Public Library (LFPL), I learned how to make a Papier Mache puppet named Eugene (I think after the Hey Arnold! character). This represents how thankful I am that my parents encouraged me to make things like this and for the LFPL libraries having resources to inspire projects like this for anyone viewing these exhibits.
Show-used public speaking notes: These index cards have been used in a talk called Revealing the Secrets Behind Essential Skills, in which I teach disabled young adults skills to assist in college and employment. These represent how much I care about disabled people getting a fair shot at living their preferred lifestyle and how most accommodations to help us do so aren't that difficult to implement.
Show-used red silk with signs of wear: This silk has been used for approximately three years for a magic routine I've performed for over a decade called "A Toast to Life". It's about seeing life's knots as opportunities, even with the battle scars along the way. This represents how thankful I am to stay self-employed as a magician and share my message with audiences everywhere. If your props wear out, you're doing something right.
Liz, Age 11
Sheet music: I play a lot of instruments, including clarinet, piano and xylophone. This music, Radetsky March by Johann Strauss, is an orchestra piece that's been converted into an arrangement for piano. I really like this piece because it's very fun to play.
Model plane: I love aviation, and I want to be a pilot when I grow up. I chose this plane, the Bombardier Lear Jet 45, because it's one of my favorite models.
Soccer ball: I really like to play soccer. I've been playing for six years. My favorite position is central defensive midfielder. If I'm outside, I'm usually playing soccer.
T-shirt: I'm transgender and this t-shirt shows the trans flag. I like to wear this shirt because it represents who I am.
Steven
Science Fiction: I've been blessed and fortunate to be able to learn something new each day and/or go on many amazing adventures, including reading science fiction stories that ignite fantasy and spark imagination. As a weird alien and nerdy engineer, I fully embrace my differences and strive to stay true to myself.
Bow Tie: Over the past twenty-seven years, I've had the extraordinary opportunity of being a Professor at the University of Louisville, where I have enjoyed wearing 'bowties' (gifts) when instructing bioengineering and medical students, collaborating with academic, government, and industry partners, and serving in leadership roles in our research field and the local community.
Symphony counterpulsation device– Our Advanced Heart Failure Research program is internationally-recognized for pre-clinical development of mechanical circulatory support devices (blood pumps, artificial hearts) for adult and pediatric patients with heart failure. This Symphony counterpulsation device was one of our first projects that started as an idea, which through multidisciplinary collaboration, grit, persistence, and hard work was successfully implanted in clinical patients.
Yellow Gibbs stubby needlefish lure: Amongst my many hobbies, I love surf fishing the Cape Cod beaches for bluefish and striped bass using lures like this yellow Gibbs stubby needlefish. I'll often head out early to watch gorgeous sunrises or in the evenings for spectacular sunsets and shining moon glows, walking up to 12-15 miles a day on remote beaches, while also looking for great white sharks, humpback whales, and other sea creatures, and meeting new people to share stories and forming friendships.
Bowl of treasures– Since as far back as I can remember, I've enjoyed exploring the great outdoors searching for 'treasures', including combing the New England beaches for sand dollars, shells, starfish, and bright-colored frosted sea glass (80+ years old) as well as locally for fossils (300+ million-year-old), including this Trilobite roller.
Gretel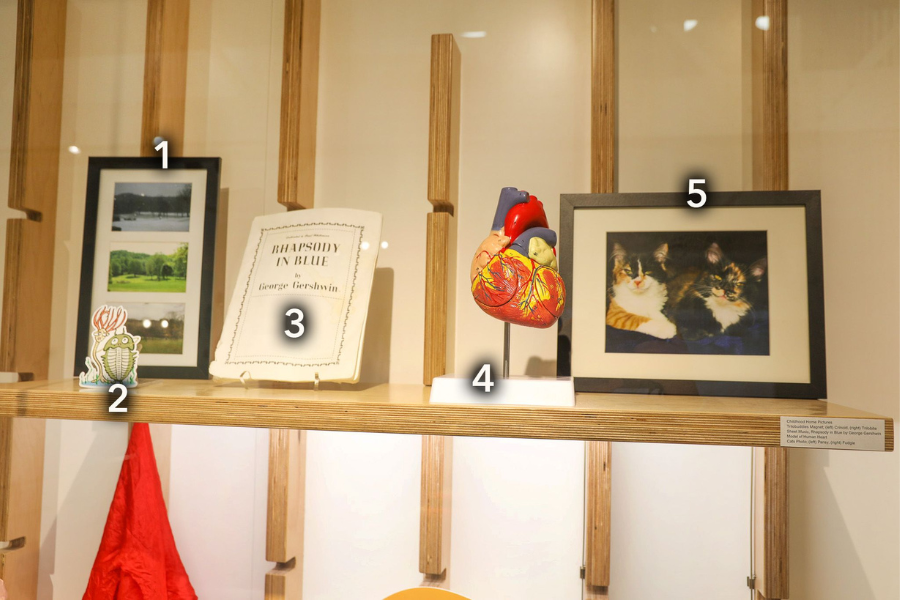 Photo of family home: A photo of my family home near Syracuse, New York, where I grew up running around outside catching bugs, swimming in ponds and streams, and eating wild blackberries.  This represents my love of my family, my home, my childhood, the outdoors, and the beauty of nature.
Trilobuddies magnet: The magnet featuring a cartoon of a crinoid (left) and a trilobite (right), two beautiful types of ancient marine creatures commonly found as fossils today in the Kentucky-Indiana-Ohio area.  The cartoon of these two "trilobuddies" was conceptualized by me and realized by an artist in Cincinnati and symbolizes the joys of adventure and exploration with my best friend.
Sheet Music: The sheet music represents my start in life as a classical pianist and reflects my passion for music, performance, practice, hard work, interpretation, and creativity.  This particular piece of sheet music is the piano part to Gershwin's Rhapsody in Blue, a jazz concerto for piano I've had the pleasure of performing.  Well-worn and missing its cover from years of use.
Model of a human heart: The model of a human heart represents my lifelong work as a scientist and professor to help find ways to improve the lives of patients with end-stage heart failure.
Photo of Cats: The photo of my two hilarious lovebug cats, Pansy (left) and Fudgie (right).  They're sisters and I adopted them at the time I was setting out for a new phase of my life in Kentucky and new job at the University of Louisville.  They both love going outside for walks on their leashes.  Pansy loves whipped cream and doting on her stuffed animal toys, while Fudgie loves belly rubs and drinking water out of faucets.
Aaron, Age 14
Page from a heart book: One thing that tells my life story is I have a heart disease called Tetralogy of Fallot which I was born with and requires me to have heart surgery every seven years to replace the valves. It means a lot to me because I have great doctors and know I'm going to be able to live longer.
Hot Wheels monster trucks: Another part of my life story is I love cars. I collect Hot Wheels. I've been collecting them since I was young. My collection means a lot to me.
Nintendo Switch: Gaming tells a part of my life story since I can't play sports like most people due to my heart disease. It means a lot to me so I don't get bored.
Dogman book– reading and research tells another part of my life story. It means a lot to me because I can figure out stuff just be researching things. My favorite book to read is Dogman.